Our Aims
Study Politics was founded in 2020 by Leo Carr. We are here to to help A Level Politics students by creating an online learning platform with engagement and student experience at its heart.
Study Politics has three objectives, which help to create rounded and knowledgeable young politicians:
To educate: ensuring you have the background knowledge to achieve grades you can be proud of taking forward in your career.
To engage: Study Politics is a platform that puts engagement first, with resources that keep you focussed and on target.
To extend: developing a love of the subject outside the classroom, engaging in further learning materials and conversation.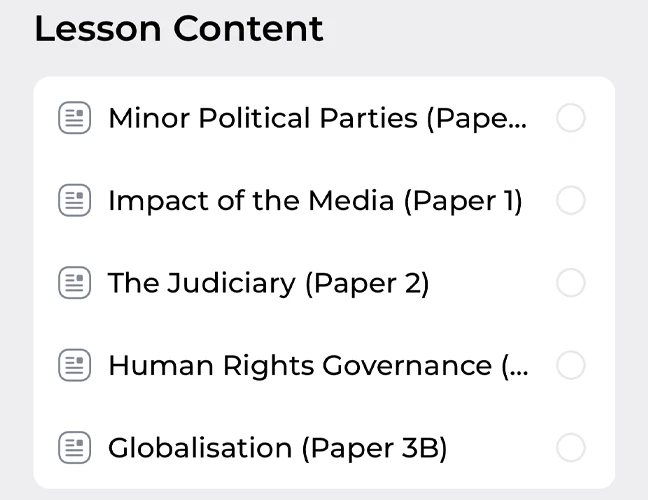 Leo Carr's story
Hello, it's a pleasure to meet you! My name is Leo Carr, and I'm the founder of Study Politics. I'm delighted to share a bit more about myself and my passion for politics and education.
I am a Politics student at the University of Exeter, focusing on international relations, British politics, and political philosophy. I achieved an A* at A Level Politics and enjoy teaching others about important political issues.
I started Study Politics because whilst revising for my A Levels, I realised there was such a limited range of affordable resources written for politics and the humanities in general. Instead of paying for ridiculously expensive resources, I decided to make affordable and high-quality revision tools that would have helped myself and the tens of thousands of others that take A Level Politics each year.
I also intend to use my university studies to introduce students to relevant examples and topics that they wouldn't find in an A Level textbook.
Leo Carr
Founder & Content Writer
Please get in touch with me if you have any questions or suggestions. I enjoy hearing feedback about Study Politics' resources and endeavour to make them better where I can. You can get in touch with me using the above icons.
Loved by students around the world
🇦🇱 Albania
🇦🇩 Andorra
🇧🇭 Bahrain
🇧🇩 Bangladesh
🇧🇪 Belgium
🇧🇯 Benin
🇨🇳 China
🇨🇴 Colombia
🇨🇾 Cyprus
🇫🇷 France
🇩🇪 Germany
🇬🇷 Greece
🇭🇰 Hong Kong
🇮🇳 India
🇮🇪 Ireland
🇮🇹 Italy
🇮🇲 Isle of Man
🇯🇪 Jersey
🇱🇻 Latvia
🇲🇾 Malaysia
🇳🇱 Netherlands
🇳🇬 Nigeria
🇵🇰 Pakistan
🇵🇱 Poland
🇷🇴 Romania
🇸🇦 Saudi Arabia
🇸🇬 Singapore
🇸🇰 Slovakia
🇪🇸 Spain
🇨🇭 Switzerland
🇹🇭 Thailand
🇦🇪 United Arab Emirates
🇬🇧 United Kingdom
🇺🇸 United States
🇿🇲 Zambia